International Journal of Endocrinology and Metabolism Research Institute for Endocrine Sciences
OVERVIEW
Organization: International Journal of Endocrinology and Metabolism
ISSN: e: 1726-9148 | p: 1726-913X
Frequency: Quarterly
Fereidoun Azizi, Atieh Amouzegar, Ladan Mehran, Hengameh Abdi
Review Article | 18 | 10.5812/ijem.100870 |
Ibrahim Abbood Zaboon, Haider Ayad Alidrisi, Ibrahim Hani Hussein, Majid Alabbood, Nassar Taha Yaseen Alibrahim, et al.
Research Article | 18 | 10.5812/ijem.94325 |
International Journal of Endocrinology and Metabolism:
Apr 2020, 18 (2), 1 articles.
AUTHORS
Mounes Asadi Shavaki, Tayebeh Fasihi Harandy * , Mitra Rahimzadeh, Ata Pourabbasi
Journal Features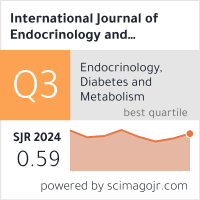 If you have any question contact us
---
Newsletter
Stay in touch and be informed about our special discount offers and educational letter from Kowsar.